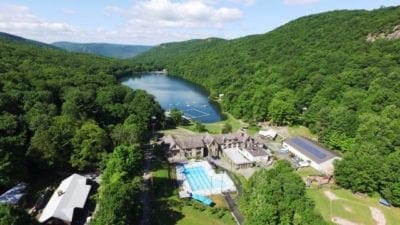 We're always available to answer questions just call us at 845-265-3616.
- Sheryl & Bradley
Summer 2022 (January Letter)
January 2022
Dear SLC Family:
We are so grateful that we were back together at Surprise Lake Camp in 2021 for a summer of in-person connections, seeing friends new and old, and getting back to a sense of normalcy. We can't wait to welcome your family back to camp in 2022.
Throughout the COVID-19 Pandemic, the health and safety of our entire community is our priority. We are grateful for your support this past summer in ensuring the wellbeing of our entire community, and we continue to follow the guidance of the Centers for Disease Control (CDC), American Camp Association (ACA), and our team as we plan for next summer. With that in mind, today, we are writing to share an important policy update for Summer 2022.
For Summer 2022, we are requiring all age eligible participants, staff, volunteers, and guests to be fully vaccinated, as defined by the CDC, against COVID-19. We believe that maintaining the health of our entire community is paramount in all we do.
Ensuring that our entire age-eligible community will be vaccinated against COVID-19 allows us to also adjust other mitigation strategies from this past summer. We will have more information about these adjustments in the coming months and look forward to seeing you this summer.
If you have any questions, please do not hesitate to be in touch.
Wishing you and your family a Happy and Healthy New Year.
Yours in Camping,
Sheryl Kirschenbaum
Camp Director