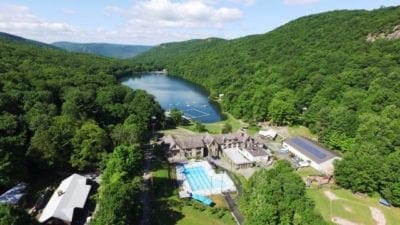 We're always available to answer questions just call us at 845-265-3616.
- Sheryl & Bradley
2020 Session One Update
May 1, 2020
Dear SLC Family:
We all share a sense of how precious Camp is–to us and, especially, to our children. In an ever-more complicated and precarious world, camp envelops us in a cozy blanket, providing comfort, stability, and a sense that, at least on the shores of Lake Surprise, everything will be alright.
As you can imagine, we want nothing more than to welcome your children back to SLC this summer, to hear their laughter on the soccer fields, their loud voices singing in the dining rooms, and the whispering in the bunks past lights out. The Eddie Cantor Theater is entirely too quiet right now.
That said, keeping our campers, staff, and the families that our campers go home to at the end of the season safe and healthy is our highest priority. Because of that, and given the constantly changing information regarding the COVID-19 pandemic, we have made the difficult decision to not open for Session One this summer. As we monitor CDC and local public health guidelines, we will make a decision about whether we can open safely for Session Two.
We want you to know that we have not taken this decision lightly. We are in constant contact with the Department of Health and local physicians. All of our decisions involve our board and staff, in consultation with local, state and federal health authorities, the American Camp Association and the Foundation for Jewish Camp, among others. Our decisions are in no way dictated by the plans of our sister camps.
We are now cautiously considering an opening on Sunday, July 26, for Second Session only. But we will only do so if we receive vetted, credible information that will assure us that there will be no health risk to anyone within our beloved SLC community. We also need to know that the parameters by which we would be allowed to open camp would not impede our ability to provide the kind of summer that you and your children expect of SLC. Our goal is to make a final decision about Session Two by May 31, if not sooner.
To support you and your family, we have prepared Frequently Asked Questions. You, and your campers, are invited to join separate (parent / camper) Zoom meetings to answer any additional questions, and to be able to process this news together in our community.
· PARENTS: Tuesday, May 5, at 4:30pm (contact us for more information and the link)
· MAINSIDE CAMPERS: Wednesday, May 6, at 5:00pm (contact us for more information and the link)
· TEENSIDE CAMPERS: Wednesday, May 6, at 7:00pm (contact us for more information and the link)
If you would like to speak with one of our directors, please click here and we will be in touch with you as quickly as possible.
We know this is difficult news for both you and your children. It is agonizing for us to have to deliver it. We encourage you to acknowledge your camper's loss and give them space to grieve over something they have been looking forward to so dearly. We found this New York Times article and this blog from the URJ helpful when dealing with our own feelings.
Please know that we are grieving too. In our 118-year-old history, we have never had a summer without SLC. But in this very uncertain world, a few things are certain. First, the ties that bind the Surprise Lake Camp community are strong and ever-lasting. Second, Surprise Lake Camp will still be here for you and for your children for many, many years to come. We will continue to support one another until we can all reunite for Friday night Shabbat, a good game of Gaga or simply Nestling under the stars.
Sending love to your whole family,
Bradley, Sheryl, Peter, & Mike
Bradley Solmsen                                            Sheryl Kirshenbaum                                             Peter Hirsch                                             Mike Zbar
Executive Director                                      Camp Director                                                                     Board President                            Incoming Board President