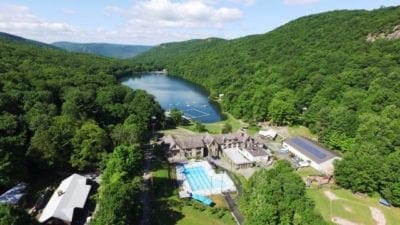 We're always available to answer questions just call us at 845-265-3616.
- Sheryl
Summer 2020 Update
May 18, 2020
Dear SLC Family:
A little more than three weeks ago, out of concern for the health and safety of our campers and staff, we made the painful yet necessary decision to cancel SLC's first session for 2020. At that time, we felt strongly that we did not have enough information to make a determination about Session Two. Now we do.  Therefore, it is with enormous sadness that we have decided not to open Surprise Lake Camp at all this summer.
We have known all along that opening SLC this summer would be a long shot. Unfortunately, the counsel that we have received in the past three weeks from all of our sources, including the CDC, local Department of Health, American Camp Association, Foundation for Jewish Camp, and our New York State Government officials, is telling us the same thing—that opening Camp is simply not prudent or responsible this year.
The recent news about the COVID-19-related inflammatory illness affecting children made our decision that much clearer. The health and safety of our campers, our staff, and their families is of utmost importance.
We know how deeply painful this moment is for you because it is deeply painful for us too. We want to do everything we can to support you and help you support your children, so we have  created a  range of resources  to help you process this news with your camper(s).
At 5:00pm today, Monday, May 18, we will be gathering, as a community, on Zoom. We hope you and your family will join us. Hugs, even virtual ones, can be powerful.
We expect that you will have questions. First and foremost, please know that we are here to help you in any way we can. These  Frequently Asked Questions  provide useful information, including regarding refunds. Beyond that, we'd love to speak with you any time. Feel free to call us at 845-265-3616.
Every Sunday, beginning this week and continuing through the summer, we will send an invitation to  online community gatherings  for campers of all ages. If you or your camper have any ideas to share, please let us know. We will also continue with our  weekly Shabbat celebrations  with Paul and Elaine Suchow via Zoom and Facebook Live on Fridays at 5 pm. Please join us for this uplifting way to begin Shabbat.
SLC has weathered many storms since its founding 118 years ago. Our community is resilient. We need to call on that spirit, and look forward to the heart-warming drive up Lake Surprise Road next year. When we are together again in the summer of 2021, we'll share the familiar sights, sounds, and smells of SLC and, especially, the warm embrace of our entire camp family. We can't wait to Nestle with you next year.
We are sending love and hugs,
Sheryl                                                                                                   Bradley                                                                                                        Mike
Sheryl Kirschenbaum                                    Bradley Solmsen                                                                Mike Zbar
Camp Director                                                                 Executive Director                                                          Board President